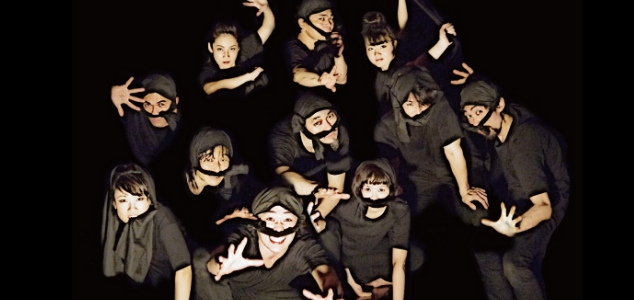 ABOUT PLAY
In the early 1800s, the common people of Edo, suffering under an oppressive government, told and re-told the legend of the outlaw hero Rat-Kid Jirokichi. Rat-Kid Jirokichi is based on a real thief who lived in the 1830s. Two years after the 1855 Edo Great Earthquake, KAWATAKE Mokuami staged the story as a kabuki play and it became a massive hit.

In 2011, Japan once again experienced a great earthquake, and Ryuzanji Company tried what was said to be impossible: they converted a kabuki play into contemporary theatre. A new version of Rat-Kid Jirokichi was created in Tokyo's theatre underground. Rather than preserving Japan's traditional art of kabuki, this kabuki takes the original meaning of the word kabuki: the act of singing, dancing, bringing joy, and focusing the energy of the common people. Rat-Kid Jirokichi is a true kabuki that lives in the present.

Three years after Japan's great disaster, Jirokichi is leaving Japan and charging out into the world.

Enjoy the "Declaration of the Return of the KABUKI-MONO(Outlaw Hero)" with a romping show featuring twelve actors



ASIA TOUR 2015
Seoul Art Space SM
Daehakro Star City Building 7th floor
대학로 스타시티 예술공간 SM  
의적☆지로키치
2015.2.26(wed) - 3. 1 (sun)
weekdays 8:00~/ weekends 4:00~
Contact 02-765-7500

●●●日本語ご案内●●●
韓国公演は2015.2.26-3.1 
芸術空間SM ソウル 大学路 スターシティビル7階
(※ソウルメトロ4号線恵化駅3番出口から徒歩5分 地図)
平日は20:00開演 土日は16:00開演 (上演時間100分) 
料金は一般30000W 学生20000W 
予約サイト:テハンノ・チケット
日本語問い合わせはこちら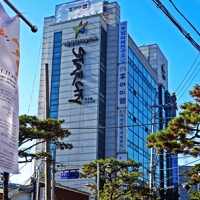 台灣國際藝術節
National Theater Concert Hall - Experimental Theater
Taiwan International Festival of Arts 2015
<<義賊☆鼠小僧>>
3/6(金)19:30  3/7(土) 14:30 19:30 3/8(日) 14:30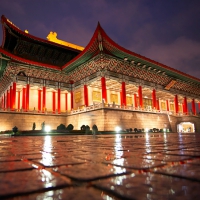 Mokuami KAWATAKE (河竹黙阿弥)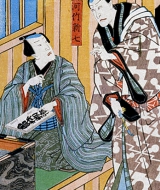 KAWATAKE Mokuami (1816-1893) was a Japanese dramatist of Kabuki. It has been said that "as a writer of plays of Kabuki origin, he was one of the greatest, if not the greatest, Japan has ever known."

He wrote 150 or so plays over the course of his fifty year career, covering a wide variety of themes, styles, and forms, including short dance pieces, period plays (jidaimono), contemporary genre pieces ("sewamono"), tragedies and comedies, as well as adaptations of foreign (Western) stories, though he is perhaps most famous for his "Shiranamimono", plays featuring sympathetic or tragic rogues and thieves.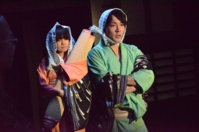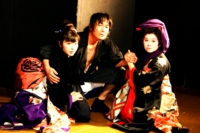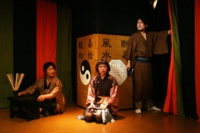 Synopsis
Jirokichi, an abandoned child raised by the woman thief Okuma, becomes the outlaw hero Jirokichi, who steals money from the rich and shares it with the poor, and habitually disguises himself as a fortuneteller. One night, in order to help Omoto and Shinsuke, a couple who were cheated out of their money, he goes to steal a hundred ryō from a feudal lord, but he is discovered by the guard Yosobei, and discovers that this guard is in fact his own father. He is unable to reveal his identity as a thief, leaves crying, and gives the hundred ryō to Omoto and Shinsuke. Several days later, Jirokichi hears shocking news from Omoto's brother Sankichi. The stolen money has been discovered and Omoto and Shinsuke have been arrested, and even Jirokichi's father Yosobei has been implicated in abetting the crime, and has been imprisoned.

Ryuzanji Company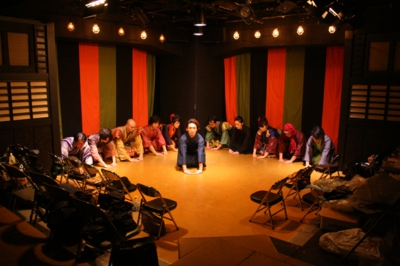 Ryuzanji Company has its origins in Japan's Angura (underground) theatre movement of the 1960s, a time when Japan's contemporary theatre culture underwent a revolution. Show Ryuzanji founded the company in 1984 after participating in two of the major Shogekijo movement theatre companies, Jokyo Gekijo (led by Kara Juro) and Wazeda Shogekijo (led by Tadashi Suzuki).

Ryuzanji Company operates under the vision that "theatre is an asylum", creating a new theatre network within Japan and around the world together with "friends we haven't met yet". Theatre is truly the asylum of the masses - a place for encountering, making, watching, and gathering together - this is the eternal challenge of theatre people.

Ryuzanji has also established "Rakujuku" (1998~) a troupe of local adults open to people aged 45 and older, and the senior theatre company "Paradise Ichiza" (2006~) members of which have an average age of 82. In 2012, Rakujuku performed in its first overseas festival at the Fringe Festival in Victoria, Canada, and won the prize for Best Ensemble. These groups are creating an unprecedented theatrical revolution with their motto of "Watching something fun makes you feel good!" The groups are at the forefront of Japan's emerging senior theatre movement.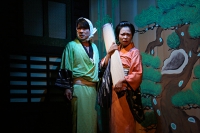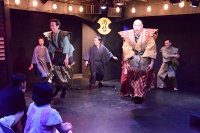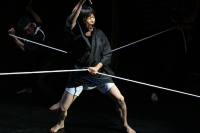 Based on Mokuami KAWATAKE's original work "Nezumi Kozo"
Director: Show RYUZANJI
Script: Eiji NISHIZAWA
Music: Sou SUWA
Choreography: Mami KITAMURA
Set Design: Hitoshi YOSHIKI
Lighting: Yu YOKOHARA
Visual Effect: Masahiro HAMAJIMA
Costume: Makiko HORIUCHI
Translation: Gwangyeon Kim(Hangul subtitle)
Subtitle Operator: Yumi SAHARA
Stage Photo: Atsushi YOKOTA
Producer: Nanaho UNEBE / Asuka MIDA / Rieko YAMAZAKI