---
Theater Reviews on gHanafuda Denki- A tale of Playing Cards 2011h
@@EJogjaNews.com
@@@Eartdig
@@@ESeedFolksJawa
Yamanashi News
Unique characters question the nature of life and death in this fun musical. Set in a temple with a black and white funeral banner backdrop, dead actors wear gaudy costumes and white painted faces.

Tokyo Theatre Clip@8/6/11
The 3/11 disaster impacted how Japanese people view life and deathc An old woman watched this play and said that she no longer feared death.
This stage evokes something needed in this era.@

A gorgeous play with an interwoven arabesque of life and death.
Make-up, music, and dance pulse delicatelyc the throbbing world of Terayama is replicated to scale. Hiroko Ito is beautiful as Kitaro.
JYOGJYA NEWS.COM
A festive musical comedy bursting with humor and energy c brilliantly shows a world where there are no restrictions on life and death, and people can move freely from one world to the other.
---
Theater Reviews on gTHE LOVE CRAZED SAMURAIh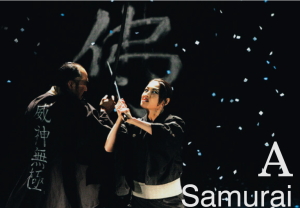 By Morio Emori in gTheater Artsh Fall, 2004 issue
gRyuzanji has completely changed the direction of the play this time. Two of the main male characters are played by women: Hiroko Ito as Gengobei Satsuma, and Saori Aoki as Sangoro Sasanoya. The purpose of that is to create a drama that reflects the gtimes of warsh today by having gwomenh, who pray for peace, gperformh the men fighting for meaningless gtaigih (moral law). Therefs singing, dancing, and sword fighting, which should be called gRyuzanji-Takarazuka-Kabukih (Takarazuka is a Japanese theater company only with women.) The direction was successful. Because the two actresses played samurais, the foolishness and sadness of men obsessed with gtaigih have expanded, and the play also reflects todayfs world that gtaigih, which is a supreme ideology, exists. The twists about the money (100 ryo) are very clear, which expresses people getting trapped and ruining themselves for money and love. Nanbokufs world portrayed with his complicated text, the daily lives of ronins and townspeople with great hardships and their relations with gtaigih, was made to be simple and clear, and Ryuzanji revived the classical piece to the present as a fast pace show full of singing and dancing.h
@
Kumamoto Newspaper, August 6, 2004.11.4
gItfs a love-hatred play about a ronin who is deceived by a geisha and her husband, originally written by Nanboku Tsuruya who wrote gYotsuya Kaidanh. Mr. Ryuzanji directed it and created an entertaining piece with singing and dancing, which the actorsf energy and the dignity of the play interacted on stage.h
@
By Shigeo Kaji in Nikkan Sports, December 10, 2002
gA show that reconstructed a kabuki piece written 400 years ago as a gcontemporary playh and that thoroughly described aesthetics of evil. I was able to see true nature of human beings through the brutal evils.h
By Osamu Imamura in Asahi Newspaper, December 27, 2002
gNanboku Tsuruyafs kabuki piece about a ronin, Kazuemon Fuwa, and cause and effect of money and love became a colorful music play, blooming as a beautiful evil flower on stage.h
Theater Guide, March 2003
gIt was the best gThe Love Crazed Samuraih Ifve ever seen. The theater was filled with energy. The direction that seems to say what moves the world are lust and greed and the acting were united, which was dragging the audience into Nanboku world. The audience was enjoying it as well.h
By Tamotsu Watanabe in Theatro, February, 2003 issue
gThe fast-pace story was easy to understand for anybody and intensified the impact. Watching the play, I realized that Nanbokufs kabuki surprisingly had a contemporary balance and that the twists about the 100 ryo were rational and debatable at the same time, and I felt like hefd have a narcissistic smile of satisfaction. The other productions of gThe Love Crazed Samuraih should learn the fast-pace and clarity of the play.h
By Tomoko Saito in Theatro, February, 2003 issue
gIt was a show that left a heavy impression of the world Nanboku portrayed, of the emptiness of the people involved in bloody Chushingura.h
By Hiroshi Seto in Manabu, February, 2003 issue
ggThe Love Crazed Samuraih is about people deceiving and killing each other for a raid and gtaigih.
The fierce sword fighting scenes are the highlights in kabuki, but the Ryuzanji version more focused on the relationships between the characters than the action scenes. Theyfre the people who struggle between their mission to make a raid and personal feelings. Is it allowed to deceive and kill someone for gtaigih? How many victims are there behind it?
Ifve seen different productions of gThe Love Crazed Samuraih, both kabuki and contemporary versions, but this one made me really understand the structure of the play.h
@
@
---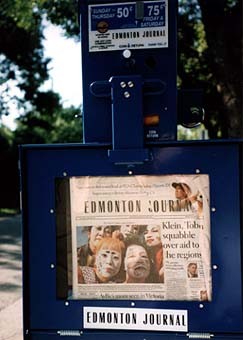 Canada tour 2000
Theater Reviews on gThe puppet's house" (=Educating mad persons)
@
"The See Magazine" (Edmonton Review)
by Scott Sharplin, August 24, 2000
ššššš
What with 12 performers on stage, Japanese dialogue with (somewhat dubious) surtitles, and a cast of characters that would have made Beckett's brow furrow, "Educating Mad Persons" cut sometimes be a bit hard to keep track of all at once. Stand back, though, and you'll see a bold, stylishly executed experimental marvel where humans become puppets and luggage becomes just about everything else.
Rich voices, vibrant costumes and some sweeping choreography make this a treat for all theatre buffs. It's Albee, Brecht, and Wilfred Watson by way of Kurosawa: bizarre, majestic, and utterly one of a kind.
@
gThe Edmonton Journalh Review
by Roger Lavesque, August 23, 2000
šššš

I'm not sure I really understood the underlying themes, but I couldn't help enjoying the multimedia vision and intense performances in this truly exotic, existentially inscrutable operetta from Japan's underground Ryuzanji Company.
The eclectic sonic backdrop includes some live drumming and crashing gongs for brash punctuation, prompting some very physical dance work (especially the puppet manipulation). A few references to classic Japanese theatre show up in the costumes, painted faces and percussion but this is something truly contemporary, spontaneous and occasionally frightening in Persons. Don't let the subtitles scare you away; despite less-than-perfect grammatical translation, the minimal text came across fine and some of the songs are sung in English. It's rare and different.
@
gThe Times Colonisth Review
by Adrian ChamberlainCSeptember 2C2000
šššš
One of the Victoria Fringe Theatre@Festiva1's most singular offerings is@"Educating Mad Persons".This extraordinary operetta is being stagedby one of Japan's leading alternative theatre companies, Ryuzanji and Company. Written by the late Shuji Terayama, it's a must-see for the serious theatre-goer.
Much of what makes "Educating Mad Persons" such an unforgettable, exotic experience is the rich diversity of its parts. Originally created as a puppet show, it encompasses elements of Noh theatre (speciflcally kuruimono, dealing with people who are mad), Kabuki, Brechtian theatre and modern dance. The music, mostly recorded, contains smatterings of Western jazz, pop and Latin - all strained through a Japanese sensibility.
On a basic level, "Educating Mad Persons" deals with the plight of women living in a society that strips them of power. The show opens with six men dressed in black ninja-style costumes physically manipulating six women as though they are puppets. These women playing characters of both sexes are imprisoned in what may be an insane asylum.
Wearing Kabuki-inspired white@makeup and colourful, tattered costumes, the women take roles such as a grandmother with a mania for cats. and a cross-eyed grandfather who@invents tales of his sea adventures. When a doctor suggests only one of them is insane, they set about to kill the mad person in their midst.In their zeal to appear "normal," five Of the six fearfully copy the actionsof each other, suggesting a totalitarian political regime.
@